09 Nov

Getting High-risk Patients the Screenings They Need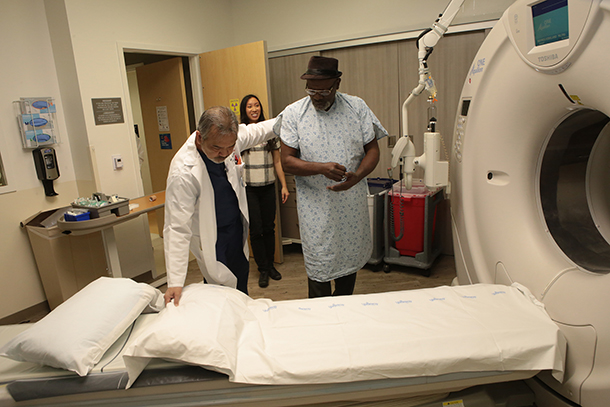 It's one of those unfortunate ironies in health care: Often, those at greatest risk for serious illness are also least likely to have access to treatment or diagnosis options.
That's especially true when it comes to lung cancer, which disproportionately affects low-income communities.
But thanks to the efforts of a team of Keck Medicine of USC doctors, researchers and radiology clinical research personnel in partnership with community partnerships led by the USC Civic Engagement office, more than 400 low-income residents from traditionally high-risk populations have had a chance to catch a potentially deadly disease early while helping further lung cancer research in the bargain.
In March 2015, Keck Medicine's Department of Radiology was awarded a grant of more than $500,000 from the California Community Foundation to fund two years of free lung cancer screenings via low-dose CT scans for residents of some of the poorest communities in Los Angeles County.
Traditionally, the standard of care has been an X-ray of the lungs, but according to Christopher Lee, MD, associate professor of clinical radiology at the Keck School of Medicine of USC and the program's principal investigator, "X-rays can really only catch advanced cancer, for which the five-year survival rates are fairly low."
With low-dose CT screening, the prognosis is much better.
"If doctors can catch it at an early stage, patients can have surgery, resection and chemotherapy, and that results in what is essentially a cure, with five-year survival rates of 80 or even 90 percent," he said.
Working in partnership with the Watts Health Foundation, the team concentrated on populations in the Centinela Valley, which includes Inglewood, parts of Hawthorne, Lennox, Los Angeles, Watts, Compton and Lawndale.
"These areas tend to be home to a very underserved patient population with little or no access to basic, preventive screening for many serious conditions," Lee explained. Worse, he continued, they're also often at greater risk for developing serious illness — particularly lung cancer. "There are much higher rates of smoking among low-education, low-income communities, and they're also more likely to report exposure to other carcinogens, like diesel fuel or asbestos."
According to Zul Surani, executive director for HSC Community Partnerships and a key partner in this program, "Our long-standing partnership and established trust with clinics and community leaders in the area helped us reach hundreds of community members at most risk for this life-saving service, and will allow us expand our efforts in the future."
In addition to the CT screening, many participants are providing blood samples to be used to help develop novel biomarker panels for early detection of lung cancer, along with answering several other scientific research questions, according to Bhushan Desai, MBBS, MS, assistant professor of research radiology at the Keck School, who added that the program has attracted additional research funding from other agencies including MD Anderson Cancer Center, ATGen, Toshiba America Medical Systems and Siemens Medical Solutions USA, Inc.
Response to the outreach for the study has been exceptional — something Lee attributes to the hard work and dedication of research coordinator Beringia Liu, MPH, who serves as the point of contact for all participants and helps to organize the project.
"There are often a large number of barriers to getting screened for these communities," Liu said. "People may not work, or work weird hours; they may not have great insurance, or access to transportation."
To help make participation easier, Liu arranged door-to-door Uber rides, paid for with funds from the grant. In addition, participants received financial compensation for their time. Ideally, patients return a year from their initial screening for a follow-up, then again a year later, for a total of three screenings over the two-year course of the study.
But a one-time, or even a three-time cancer screening isn't sufficient to keep patients healthy and doctors informed.
"Best practice has high-risk patients coming back year after year," Lee said.
In order to continue the free service and bring the most benefit to the communities that have participated, the team is applying for additional funds and an extension of the grant.
"The longer we screen our patients, the greater the chance we can catch any lung cancer at an early stage and the better data we are able to collect to reduce the impact of the No. 1 cancer killer in the world," Lee said.
— Leigh Bailey